Enjoy the Benefits of Certified Ford Service Near Your Local Area at the Kermit Motor Co Inc. Service Center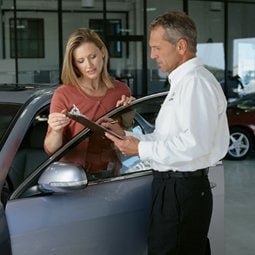 If you're anything like us, you love the feeling of driving a new car, and you want your car to feel like new for years and years to come. Fortunately, one of the best ways to ensure that, and avoid costly repairs in the future is to keep up with your Ford manufacturer-recommended maintenance. And with years of Ford service expertise under our belts here at Kermit Motor Co Inc., there's no one better equipped to serve your car care needs than we are.
Kermit Motor Co Inc. is Here for Your Maintenance and Repair Needs
All cars need a little routine maintenance now and then to keep everything running smoothly. Oil changes, tire rotations, filter changes, and other basic services work together to help your Ford model perform at its best, and it reduces the risk of running into bigger car problems further down the line. Whether your car needs some basic maintenance or some in-depth repairs, you can count on our service center in Kermit to get the job done and help you get the most out of your ride.
Visit Us for Ford Service in Kermit
If you're in need of service, you can schedule an appointment with ease online. You can also give us a call to set up a time at the next available time convenient to you. While you wait, you can relax in our customer lounge as we perform the maintenance and repairs needed to give you the confidence driving throughout Texas. Contact us if you have any questions as we're happy to provide insight on all auto service needs for you.
Please call 844-875-1151 and we can get you back on the road again!